First things first, take a moment and give a prayer of thanks to everyone who serves or who has ever served our country. Memorial Day isn't just about going to the grill, it's a time to remember those who have protected the United States. We also grilled, made paella and enjoyed our friends & family!
As for our video shoot: It's a wrap! We cooked, shot, ate, argued (a little bit, it's part and parcel of the creative process, right?), laughed, and got it all done. My hat goes off to our producer/director Curtis Albucher;  the man knows how to make food look good. He knows cooking, and he knows food, and that's a major asset when making food videos.
I'm jazzed about this project. We gained tech experience making Cooking Simply: The Italian Way!, so there are things I want to do differently, like make the book easier to navigate.
We're referring to our current project as the prequel to Cooking Simply, by laying out the absolute basics: what equipment you need in your kitchen, how to plan a menu, how to time a dinner. All the good 'stuff' you need to know so cooking isn't a chore, it's a satisfying and pleasurable part of your day.
Remember in the movie Julia & Julia, where the young author says cooking is reliable, something you can count on? It's true.  If you combine x with y, you get zee' dinner. Bad pun, sorry, I couldn't help myself.  If your day is rotten, your boss doesn't understand, your partner is cranky…but  your stove works, the water will always boil and the butter melt.
We did get to spend a little time with friends and family this weekend and that was wonderful. Jeff and Raffaello head back to Italy tomorrow. I'm gonna be lonely!
On Wednesday, I head to Austin, TX and our 33rd Annual IACP Conference. Can't wait to see everyone, meet new people, greet old friends and learn something new.  From Opening Reception to the Awards Gala, it will be an action packed few days.
This year, IACP is offering streaming video so you don't have to miss anything. From DIY video production for bloggers, "It's Better to be Bitter" to What French Cuisine can Offer Modern Cooks with Amanda Hesser and Jacques Pepin, it's an amazing amount of info for $69.99 (on demand) or $99 (live streaming). Maybe not as much fun as being there in person, but it's pretty darn cool if you ask me.
Lots going on, that's for sure. Follow #IACP on Twitter to catch a bit of the flavor of this amazing organization. I'm packing comfortable shoes, a dress that will dazzle and not much else because I hear it's HOT in Austin!
PS That handsome man in uniform in my Dad, back in his paratrooper days.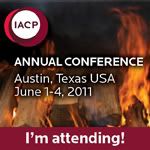 >